- Singapore Airlines A380... A Travel Experience in Itself -
Although I am a foodie who wants to try the variety of food available in Singapore, there were times that I just wanted Filipino food. Good thing, the place where I stayed was very near Lau Pa Sat and Marina Bay Sands so it was easy for me to satisfy my craving.
If you're a Filipino tourist who is not a foodie and prefers to eat Filipino food while travelling, a Filipino who will be transferring to Singapore, or simply someone of a different nationality who wants to eat Filipino food (I felt good whenever I see other nationalities opting to order Filipino food despite the variety of food in Lau Pa Sat), you may want to check the following Filipino food stores in Singapore:
1. Gerry's Grill (Marina Bay Sands Foodcourt) - for some reason, I find the food in Gerry's Grill Singapore more delicious than its local counterpart in the Philippines. You may choose from the following Set Meal options (comes with plain rice, soup, and choice of noodles; with option to upgrade plain rice to adobo rice for only SGD1): Inihaw na Liempo (Grilled Pork Belly), Chicken Kebab, Pork Barbeque, Inihaw na Manok (Grilled Chicken), Inihaw na Pusit (Grilled Squid), Lumpiang Shanghai (Pork Spring Rolls), Chicken and Pork Adobo, Tinomok, Beef Kaldereta, Beef Kare Kare, Pinaputok na Cream Dory or Pork Sisig. Ala Carte menus are also available.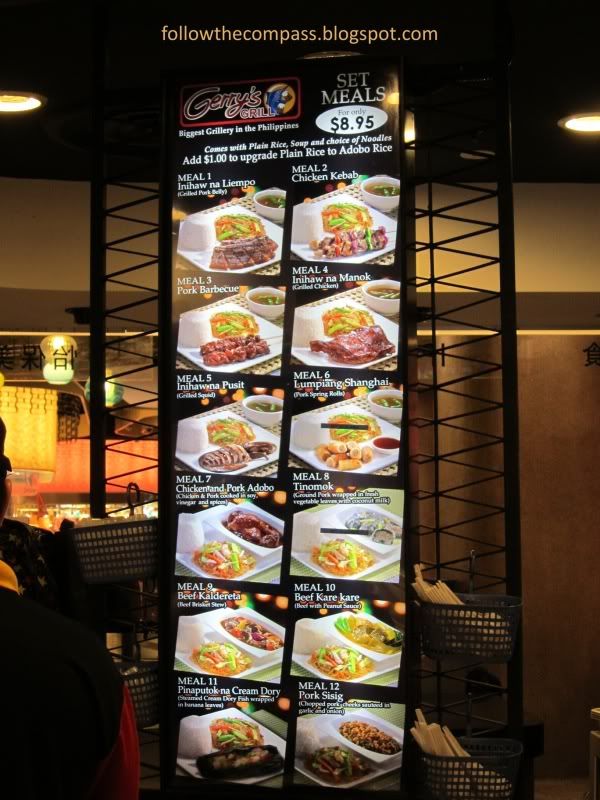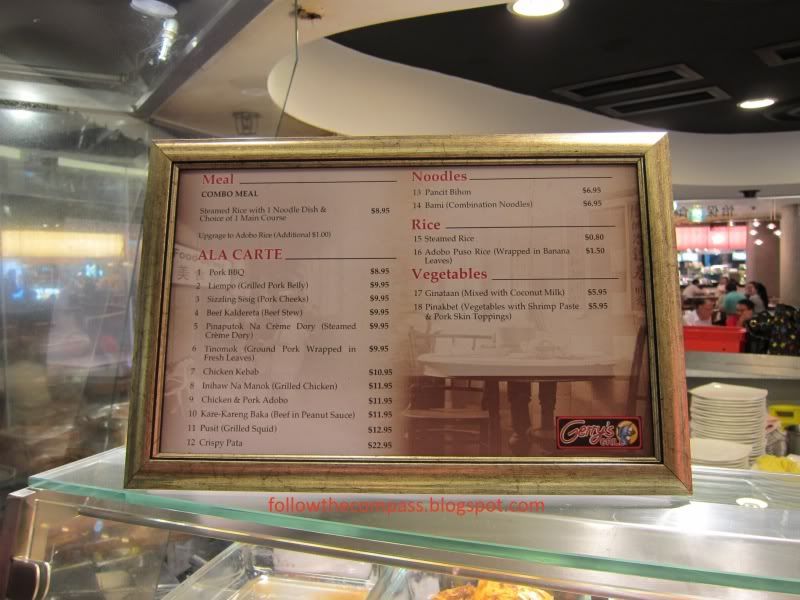 2. Mang Kiko's Lechon (Lau Pa Sat) - Their Inihaw na Liempo (SGD6; Roasted Pork Belly) was surprisingly good and it became my comfort Filipino food in Singapore. I tried to have Inihaw na Manok (SGD6; Roasted Chicken) but it was always sold out. Warning: They're almost always sold out so try to reserve your food in advance.
3. Tapa King (Lau Pa Sat) - Although it is more expensive (SGD6.5) in Singapore, the service size is also bigger. Don't worry, they have Spicy Vinegar to match your Tapa, and varieties such Tapa Prince, Tapa Queen, etc. are also available.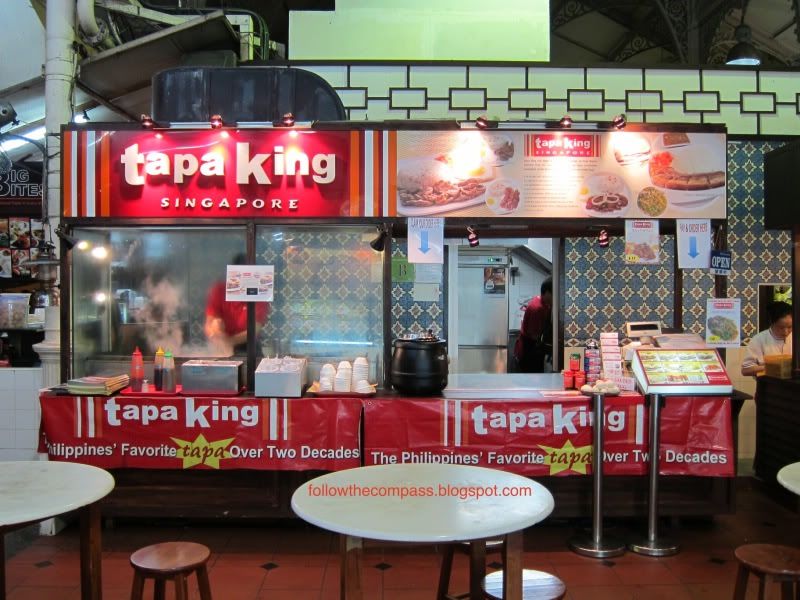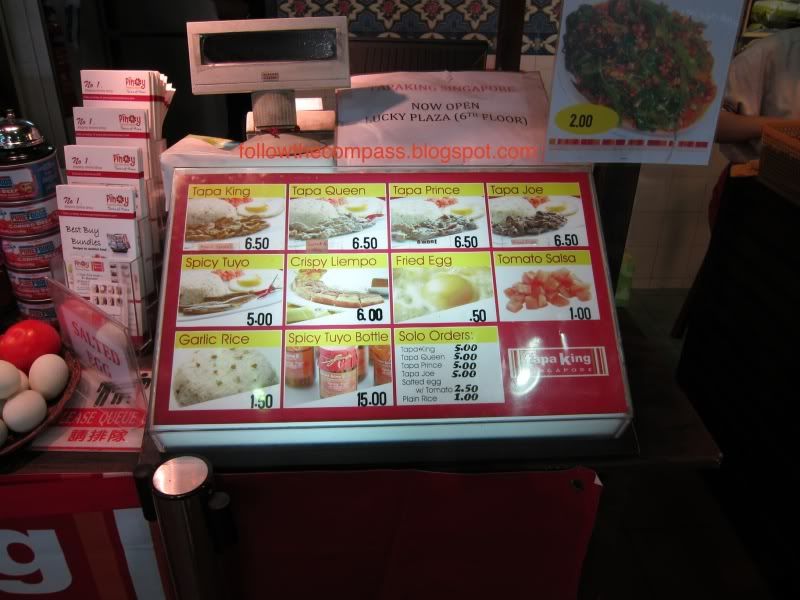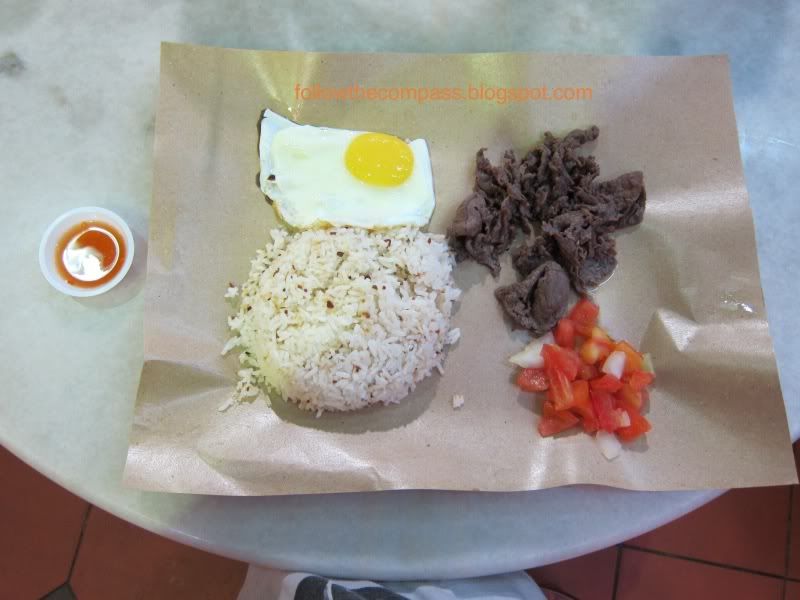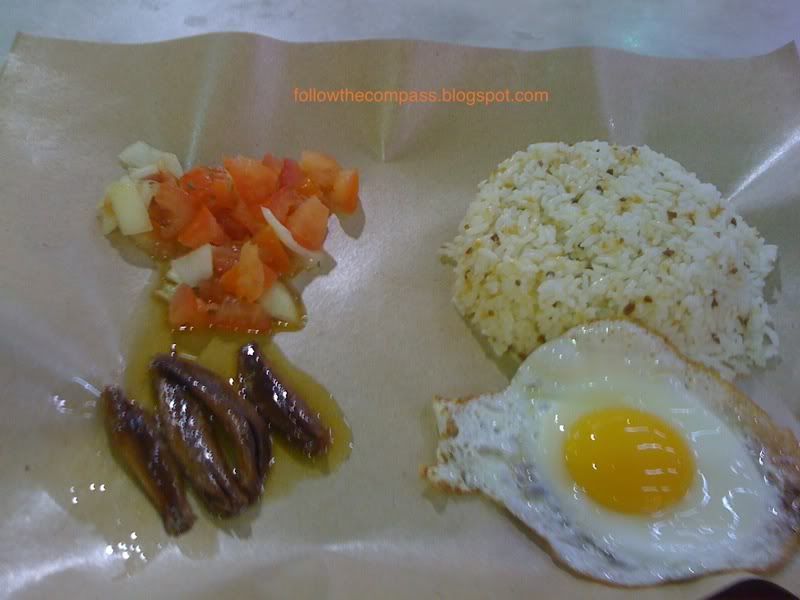 4. Happy V (Lau Pa Sat; formerly Jolly V for obvious reasons) - Although I didn't try it, I was informed that their Chicken, Palabok, and Spaghetti tastes like Jollibee.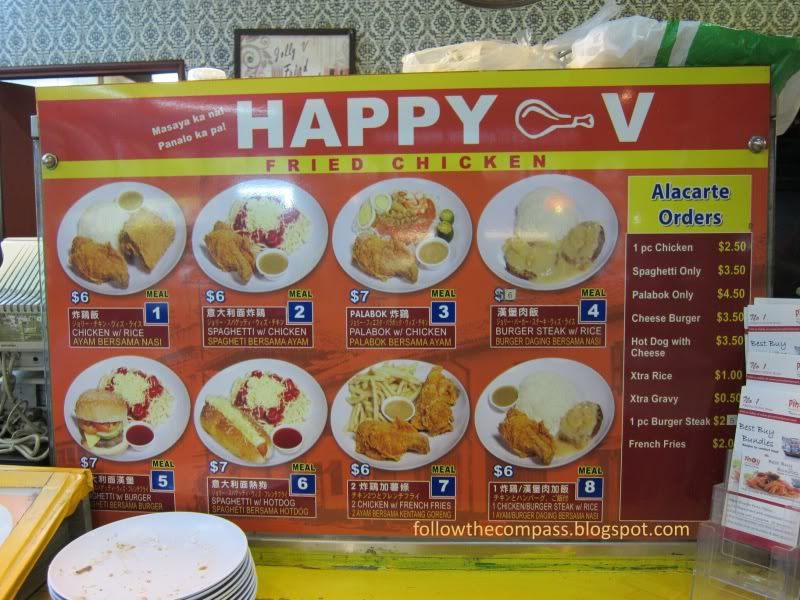 5. Hapag Kainan (Lau Pa Sat) - I wasn't able to try this also. But if you want to have Chicken Inasal (SGD6) or Lechon Kawali (SGD6) while in Singapore, give it a try.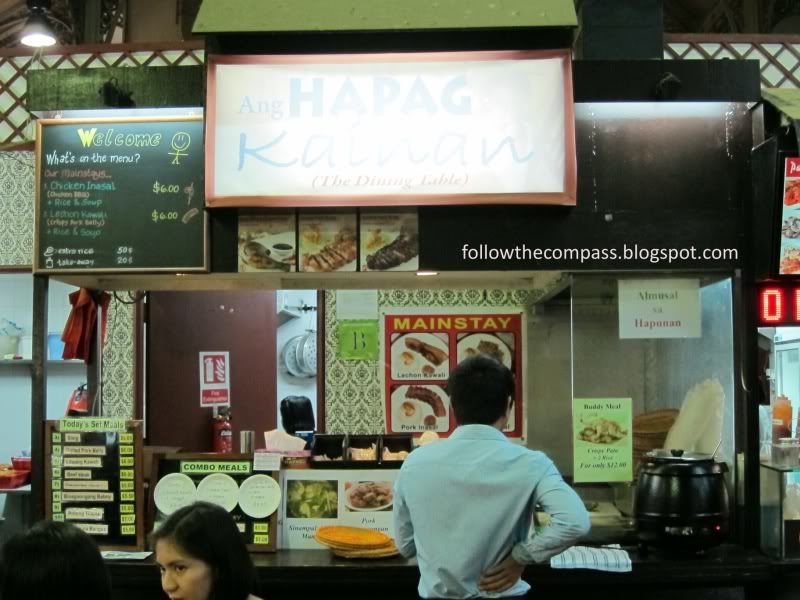 There's another Filipino stall in Lau Pa Sat, Panyeros. However, I wasn't able to take a picture and take details about it.
Since most of the stores I featured are in Lau Pa Sat, those who intend to go may use the MRT, alight at Raffles Place station, and use Exit F. From there, it may be better to ask around but you don't have to worry because you don't have to make any turn. Happy eating!