Related posts:
- Wombat's Hostel Berlin Review and Recommendation -
- What You'll See in Munich Residenz -
- What to Expect in a Munich Beerhall Experience -
I wanted to go to Berlin mainly to see the Reichstag, which I have seen in lots Modern Architecture magazines, and the Sony Centre, whose pictures have caught my interest. To my surprise, I fell in love with the city because of its rich history... thanks to our exceptionally good walking tour guide, Heather.
Here are some of the sights you'll see if you get to visit Berlin:
Reichstag -
This building is the meeting place of the modern German parliament, the Bundestag.
Because I've been seeing and loving the inside of this building's dome which is featured in lots of architectural books, I couldn't remove Berlin from my must visits.
This is the large glass dome at the top of the Reichstag. It provides a
360-degree view of the surrounding Berlin cityscape. A large sun shield tracks the movement of the sun electronically and blocks direct sunlight which might bedazzle those below.
The main hall of the parliament below can also be seen from the cupola, and natural light from above radiates down to the parliament floor.
Sony Centre - Designed by Helmut Jahn, the Sony Centre was completed in 2000 at a total cost of EUR750m. The dome of the Sony Center, which was modeled after Mount Fuji, is lit by different colors at night and is the landmark of this area. You can take Europe's fastest elevator to the 24th and 25th floor of the Kollhoff Tower for a panorama view of futuristic architecture on Potsdamer Platz.
Brandenburg Gate
- During the Cold War and the division of Germany, this landmark stood between East and West Berlin. When the wall fell in 1989 and Germany was reunited, the Brandenburg Gate became the iconic landmark of a new Germany.
DZ Bank Building -
Designed by the famous Frank Gehry of the Guggenheim in Bilbao and the Dancing House in Prague.
Because Gehry was wasn't allowed to do anything crazy with the facade, he put his signature style inside the building and he shaped the roof like a fish.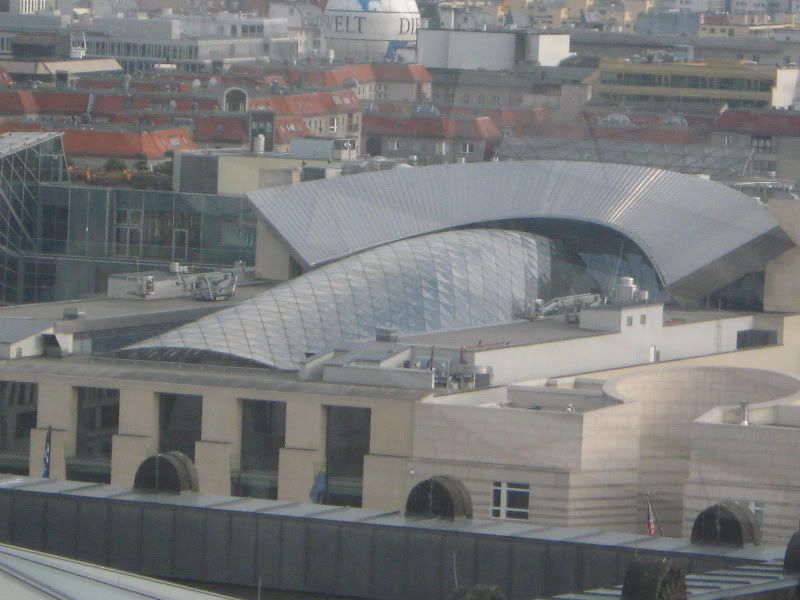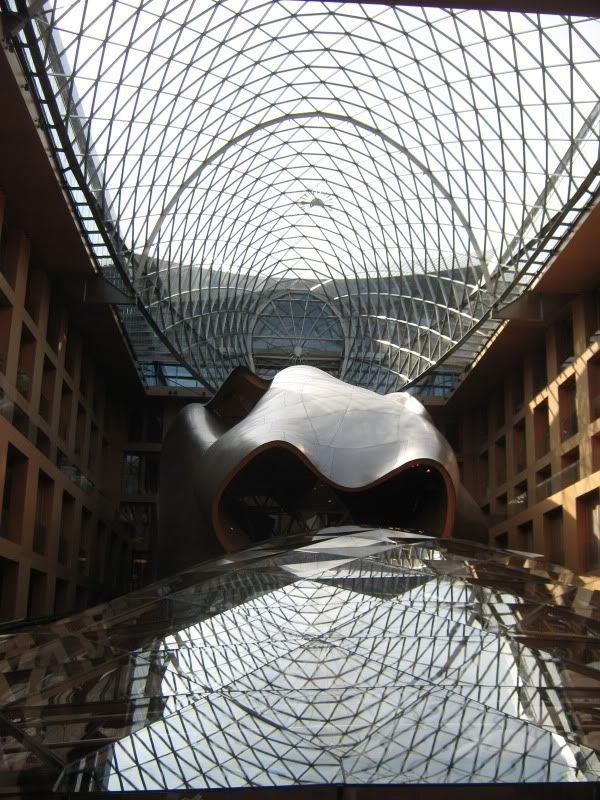 Heather's Walking Tour -

I paid EUR9 (Php540) to be part of this walking tour but it was very worth it! She is taking up or finished Masters in German History that's why she's very knowledgeable on the subject. She's so good that she can make even an empty piece of land very interesting. In fact, the thought of studying German History even crossed my mind!
7-Seater Conference Bike - I g
ot fascinated when I saw this in front of the Brandenburg Gate. Apparently this is a guided tour but you can also rent the bike without a guide. Without a tour guide, it costs EUR55 (Php 3,300) per hour then EUR50 (Php3,000) every hour thereafter. If you want to rent the bike for the whole day, it will cost you EUR215 (Php12,900). I think a tour guide costs EUR20 (Php1,200) per hour. Check out http://donbikes.com for more details.
Holocaust Memorial -
According to Wikipedia, "The Holocaust Memorial is a memorial in Berlin to the Jewish victims of the Holocaust... It consists of a 19,000 square metres (4.7 acres) site covered with 2,711 concrete slabs or "stelae", arranged in a grid pattern on a sloping field. The stelae... vary in height from 0.2 to 4.8 m (8 in to 15 ft 9 in)... the stelae are designed to produce an uneasy, confusing atmosphere, and the whole sculpture aims to represent a supposedly ordered system that has lost touch with human reason. "
Berliner Dom - Endeavored to be the Protestant equivalent of the Roman Catholic's St. Peter's Basilica.
Admission is EUR8 (with audio guide) or EUR5 (without audio guide). Opening Hours are
09.00 am - 8.00 pm (
Monday through Saturday) or
12 noon – 8.00 pm
(
Sundays and Holidays
).
From October 1st through March 31st, closing is at 7 pm.
TV Tower - Built in 1969 by the East German government to demonstrate their technological know-how. When sunlight beams on the steel sphere, a giant cross is reflected which was a paradox for the East Germans who were mostly atheist. This phenomenon is termed as the "Pope's Revenge".
Entry prices:
Adult: EUR 11
Children up to 16: EUR 7
Children up to 3: Free
Opening Times:
March to October - Daily from 9 a.m. to midnight
November to February - Daily from 10 a.m. to midnight
Berlin Wall - Barrier constructed by East Germany that completely cut off West Berlin from surrounding East Germany and from East Berlin. The barrier included guard towers placed along large concrete walls, which circumscribed a wide area (later known as the "death strip").
Checkpoint Charlie - Name given by the Western Allies to the best-known Berlin Wall crossing point between East Berlin and West Berlin during the Cold War. It represented the separation of East and West Germany, and—for some East Germans—a gateway to freedom.
Hotel Adlon - Michael Jackson infamously dangled his son "Blanket" out one of Hotel Adlon's windows during a visit to Berlin in November 2002.
Cars - German cars are famous and you'll get to see showrooms if you walk around Berlin. However, you can also try riding the Trabant (also known as Trabbi or Trabi).
Topography of Terror - Chronicles the horrors and atrocities of the Nazis from the period 1933 until their fall in 1945. It is situated near the boundary between West Berlin and the former communist East Berlin and is adjacent to part of the Berlin Wall which was erected during the Cold War.
In the 1970s, these ruins were excavated and revealed cellars which were used by the Nazis to torture, imprison political prisoners and also functioned as the head quarter for the secret police.
Open daily from 10 a.m. until 8 p.m. Admission is free.
Victory Column - Constructed to celebrate the military successes of Prussia over Denmark. In 1938, Hitler moved it from its place in front of the Reichstag to the centre of Tiergarten where it stands today.
Train Station - I observed that each train station in Berlin is artistic and has its own character or design. Below are samples:
Other forms of Architecture
Windmills
- You'll get to see lots of windmills if you coast along German highways
Street Art
Food
Comfort Rooms - Unlike other countries, highway stopovers in Germany charge EUR0.50 (Php30) per use. However, I think it's worth it because this is discounted from any purchase at the stopover plus you get mechanized sanitation which is a sight to see. View the video and wait for awhile to understand what I'm saying.
Doing this blog entry reminded me of how much I surprisingly liked Berlin. You should go there to understand and appreciate what I'm saying.
P.S. Don't forget to invest on a great guide like Heather to appreciate the city even more!