Because I'm such a foodie and because I haven't been traveling lately, I realized that I might as well start sharing my food adventures in Manila. First on the list is the recently opened Village Tavern at Bonifacio High Street Central.
You may find this place pricey but once you've tried it, you'll agree it's worth your buck.
To make things a bit different, I'll start with the dessert: Banana Crepes
Banana Crepes (Php395 + SC)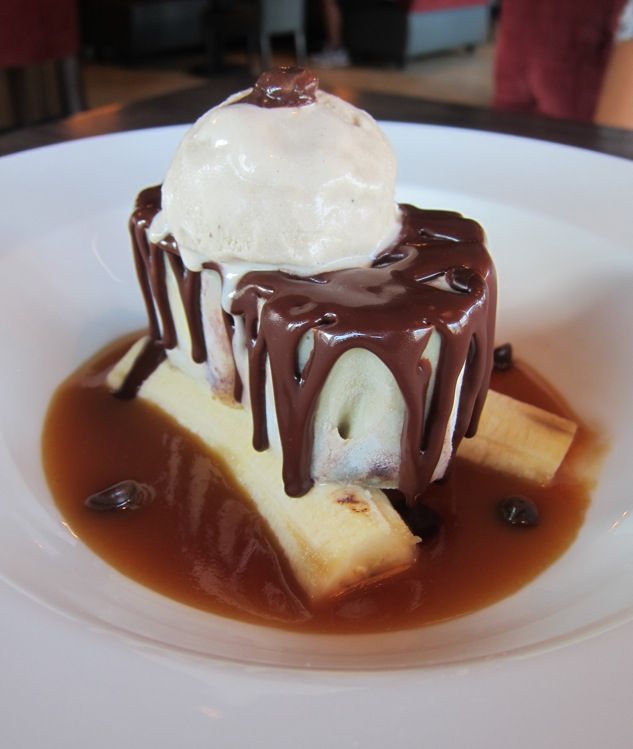 Yes, I know it's too much to pay for a dessert... but please do yourself a favor and order this!!! It's definitely worth the price and it can be shared by two, three, or even four people (though four may be a bit too much). I know it looks good on picture... and let me tell you that it tastes as good as it looks. How can you go wrong with Caramel, Ice Cream, Chocolate Hazelnut, Chocolate Sauce, Crepe, etc. altogether?!?!
Crispy Chicken Tacos (Php475 + SC)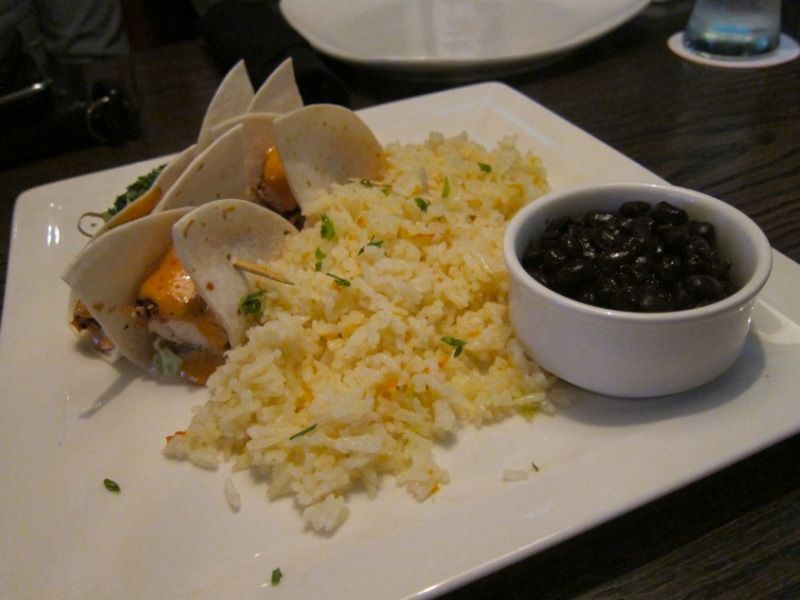 The Crispy Chicken Tacos may not be too appealing on the picture, but it's really really good! Don't hesitate to squeeze in the rice and the beans (the beans will neutralize the spiciness of the chicken) as they get along well together.
Maryland-Style Crab Cakes (Php550 for 1 pc or Php695 for 2 pcs + SC)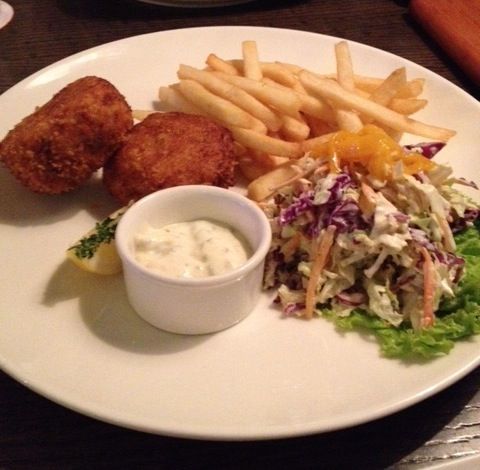 All hail the KING of all Crab Cakes!!! If you have a thing for crab cakes (or if you don't have a thing for it, this one might just change your life), you must try this! It's like fresh crab meat, taken out of the crab, put together, and made into cake form for you. It's the most authentic crab cake I've tried.
Grilled Chicken Penne (Php425 "regular" or Php675 "to share" + SC)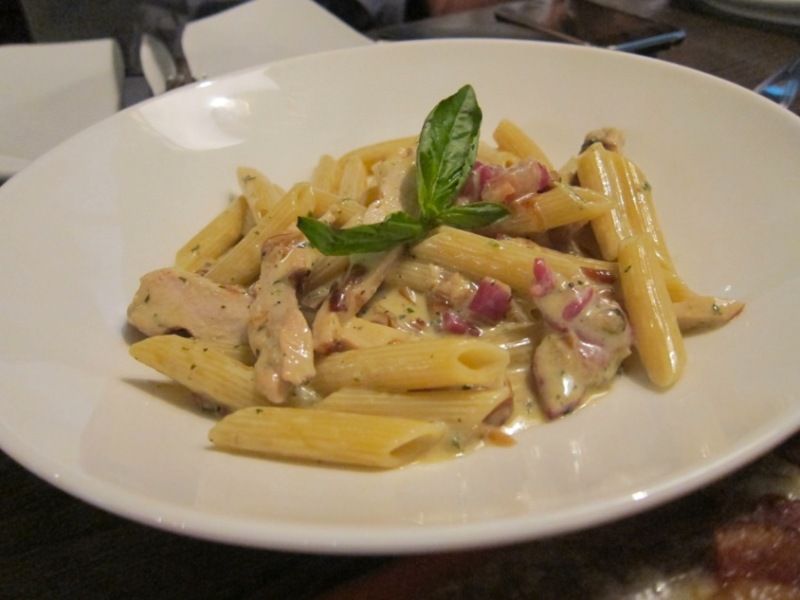 This may look like your regular Penne with Cream pasta but there's an eruption of flavor (a good one) once you taste it. The unique taste makes me want to try it again.
Cowboy Burger (Php595 + SC)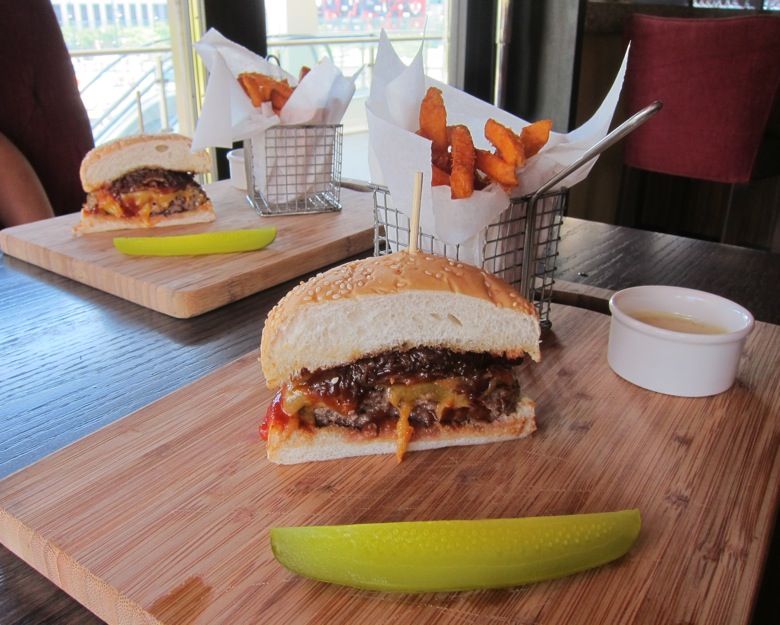 I made a mistake not of ordering this but of having the burger split because having it split hindered the picture from justifying it's goodness. An order may already be enough for two persons since it's made of nothing less than half a pound of Rastelli's Pureland Black Angus Ground Chuck. This high quality patty is joined by applewood-smoked bacon, cheddar cheese, caramelized onions and barbeque sauce. A bit too pricey for a burger but having half a pound of good quality Angus Beef explains and justifies it.
Gruyere & Applewood-Smoked Bacon Flatbread (Php495 + SC)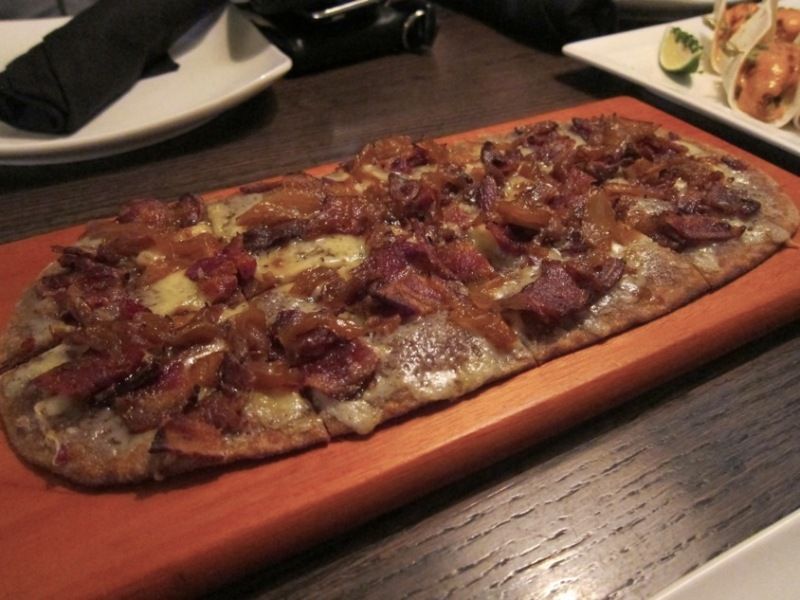 The "Applewood-smoked" make combined with Caramelized Onions makes this flatbread worth a try. This dish is exceptional in itself but the other items I tried are such stand-outs that keeps this one from being a "first-in-mind" recommendation.
I will not hesitate recommending Village Tavern. After eating here twice in two consecutive days, I came back to have dinner with college friends, and they all raved about how great my choice of restaurant was. You better not think twice.